"What the world needs now is love, sweet love
It's the only thing that there's just too little of
What the world needs now is love, sweet love
No not just for some but for everyone
Lord we don't need another mountain
There are mountains and hillsides
Enough to climb
There are oceans and rivers
Enough to cross. enough to last
'Till the end of time" – Diana Ross "What The World Needs Now Is Love"
There aren't too many occasions where you can turn to social media and not find a post that does not quote something with positive affirmation. Whether the message focuses on remaining diligent in the quest for greatness or striving to enlighten others, there are those amongst us who try to give off a positive aura of caring for their fellow man and spreading the wealth of abundance. When the message is delivered by your favorite celebrity, pastor, or star icon, the words are met like a scripture; liked, quoted, commented and retweeted thousands of times without a second thought. It's as if we need the assurance of others to allow us have a particular opinion as to how to feel when certain subjects are broached. Once they've approved, then surely we can follow suit because a person of that elevated status wouldn't lead me astray.
"Did you know that your feelings show
You thought your love was locked up inside
But when your senses start to overload
Love is something you should never hide
You've got to believe in love
It's a feeling that's next to none
Can't stop until we are one
With the power of love
Tell everyone to try
I promise you'll reach the sky
One thing that we can't deny
Is the power of love" – Luther Vandross "Power Of Love / Love Power"

When the subject of "love" is brought up, it's as if the conversation is taboo. People appear openly afraid to express those emotions in the general public. Around friends, men would rather appear before a firing squad as opposed to declaring that phrase in the presence of their peers.  However, at funerals, those same men will use and exceed their two (2) minute time frame championing their fallen comrade and stating that "we" should voice these feelings because "life's too short" and "tomorrow isn't promised." During courtship, because the relationship is new, the euphoria of expressing one's feelings reach new heights. We need that affirmation from each other to determine if the bond is real and felt mutually. However, once the expectations are met and the feelings satisfied, we become complacent and all the acts that had us feeling that way no longer apply. The love remains but those feelings of ecstasy fade. Perhaps that's the reason why so many people stray in their relationships, as they continue to chase the initial high of being happy in those moments.  People must understand that love ebbs and flows; it's never the same. Love isn't singular to an individual, it's the passion and devotion to "all" things. Not just an affinity for a person, but for the animals, the trees, the universe at large. That's what love is; not Romeo & Juliet but the one that's described in the scripture of your chosen religion.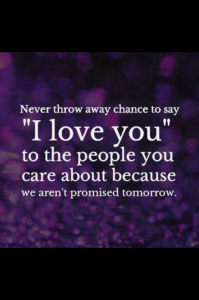 Hypothetically speaking, what if all the religions were brought to together and had one message. The words of the Bible & Quran; the messages delivered by Jesus,  Buddha, Muhammad & Confucius were all brought together for one specific reason. To share the power of the thing we defend ourselves against. Think of the feeling you have after a Sunday morning of worship. The message is delivered by the pastor/minister and the word that is heard by ear resonates through your soul. Upon your exit, your spirit is renewed. But after the pixie dust wears off, similar to the complacency in a relationship, we defend ourselves from expressing those feelings until called upon unless when there's a dire situation. Any sense of vulnerability reveals a chink in the armor. We crave the feeling, yearn for the warmth it provides, yet shun from it at times; hide from its embrace and run for shelter for fear that it'll continue to hurt us; time & time again as with incidents past.
"Are you trying to find a beginning.
Or something just to hold on to.
Always know that love will find a way.
Is it hard this life you're living.
Does the world seem so unkind.
Don't you worry love will find a way.
Some say we've lost, our way.
Some say the world has gone astray.
But if you know where you're going.
There's nothing you can't do.
'cause problems will come.
And they will leave you.
The world will try to deceive you.
But the truth will always be in your soul." – Lionel Richie "Love Will Find A Way"
 
Corinthians 13:4-8 states the following: "Love is patient, love is kind. It does not envy, it does not boast, it is not proud. It does not dishonor others, it is not self-seeking, it is not easily angered, it keeps no record of wrongs… Love does not delight in evil but rejoices with the truth. It always protects, always trusts, always hopes, always preserves… Love never fails. But where there are prophecies, they will cease; where there are tongues, they will be stilled; where there is knowledge, it will pass away."  Once we understand the concept surrounding love's essence. We will enjoy its embrace and realize the fears of expressing it is propaganda played in our mind. Stop placing your feelings on a leash and let them roam free to enjoy life's pleasures.  And if someone can't or won't accept you for the person you are after being sincere and genuine, it's an indictment of them not you. Namaste!  "We Are The Change!" I'm gone! (b)
Follow the Fan Page on Facebook : The Porch Reloaded – Rocking Chair Rebels
Follow us on twitter: @ThePorchFellas
Email us: [email protected]
Listen to the show on Thursday nights at 7:00 pm: www.theporchfellas.com on the Anti Robot Network