It was a long, grueling season.  An attempt to 3-peat fell short as the former defending champion Miami Heat lost to the superior San Antonio Spurs 4-1 in the best of seven (7) series in the NBA Finals.  To some, it was considered a five (5) game series sweep, as the only Spurs' loss came as a result of Tony Parker being temporarily injured and visibly shaken as a result of an elbow from Heat point guard Mario Chalmers.  However, the questions were raised as a result of the Game 4 and 5 performances of one Dwyane Tyrone Wade; who shot 7-25 in those contests contributing to the defeat at the hands of the newly crowned champions.  This was a bit of a surprise considering that Wade had shot a career high field goal percentage of 54.5%, averaging nineteen (19) points per game.  It was tied for the highest shooting percentage by any shooting guard in the past twenty-nine (29) years, and the highest of any player playing the same position since the NBA implemented the three-point shot in 1979-80; something that the fabled Michael Jordan had never done over a full season (53.9% in 1990-91). Even more shocking was the NBA Finals was the stage that the Heat prepared for all season, placing Wade on a "Maintenance Program" to ensure his long-term health and maintain his "bounce" when needed in pivotal moments.  But as the Finals footage will reveal, the athleticism abandoned him, and his craftiness used to get by after playing fifty-four (54) games during the regular season was not enough to assist in retrieving a third (3rd) straight title.  The moment has arrived for the artist former known as "Flash" to bounce back; after falling down and appearing broken, it's now time for him to pick himself up and prove his doubters wrong yet again.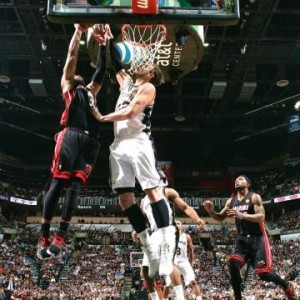 Seems like only yesterday, Wade burst upon the scene as he lead his alma mater, the Marquette Golden Eagles, to the Final Four in 2003 with an epic performance over the Kentucky Wildcats.  Wade's performance during the Midwest Regional Final justified his selection as a First Team All-American, recording a triple double with 29 points, 11 rebounds and 11 assists.  Wade elected to forgo his senior year and enter the NBA draft.  The Heat selected him with the fifth (5th) overall pick and he has been a mainstay of the team ever since.  The 6'4" pocket rocket, filled with quick twitch muscle fibers, swiftly became a fan favorite and during his rookie season lead the team to the second (2nd) round of the NBA Playoffs, eventually losing to the Indiana Pacers.  And though Wade's accolades includes three (3) NBA Championships, a 2008 Olympic gold medal, all-star appearances and All-Star & NBA Finals MVP trophies, his career has been defined by his ability to overcome adversity and "bounce" back.
Dwyane Wade v. Rodney Carney
If anyone has that ability it's definitely Wade.  While many others may have crumbled under the weight and burdens placed upon them, D. Wade appears to relish in it; using it for motivation to fuel his desires.  Who else could have overcome their parents being divorced, their mother being addicted to heroin, a bitter and public divorce from their high school sweetheart (Siohvaughn Funches), lawsuits filed by former partners over the defunct restaurant chain (D. Wade's Place), a host of injuries and a love child outside of a relationship with their current fiancée (Gabrielle Union).  Wade has dealt with these adversities and in typical fashion, accepted responsibility, used each episode as stepping stones and moved forward.
This may be Wade's biggest challenge to date.  At age thirty-two (32), though not considered old by normal human standards, in the field of athletics it's considered a lifetime; old; too much mileage and wear & tear.  During Game 5 of this year's NBA Finals, Wade's attempt at the rim was met by a Tiago Splitter block.  There was no lift in his legs and the rejection wasn't even at the summit of his leap. So now it's presumably back to the lab with long-time trainer Tim Grover to see if he can revive Wade's broken body and get him in condition to handle the rigors of an eighty-two (82) game schedule and relieving some of the load placed on teammate and good friend LeBron James.  Of course people won't be expecting the same player that returned from injury during the 2008-09 calendar years that helped lead the "Redeem Team" to a gold medal over Spain in Beijing, China, or who lead the league in scoring, averaging 30.2 and finishing third (3rd) in MVP voting.  The Heat organization, particularly James, assuming that he remains with the ball club, is looking for a healthy Wade to solidify the team's lineup and be a solid contributor for the foreseeable future.  If Wade can accomplish that, the team can continue to make more title runs and he can further entrench himself in the annals of NBA lore.  The man who's moniker was once fall down seven (7) times, stand up eight (8), is being asked to pick himself up, brush himself off and return to greatness.  The vultures (the media) have swooped in and are trying to pick at Wade's battered carcass; many basketball analysts are leaving him for dead and saying he'll never be the same.  If anyone can do it, Wade has proven he can.  And the fans of Miami-Dade County, appropriately called "Wade" County, will be anxiously awaiting his bounce back.  "We Are The Change!"  I'm gone! (b)
Follow the Fan Page on Facebook : The Porch Reloaded – Rocking Chair Rebels
Follow us on twitter: @ThePorchFellas
Email us: [email protected]
Listen to the show on Thursday nights at 7:00 pm: www.theporchfellas.com