"1492. As children we were taught to memorize this year with pride and joy as the year people began living full and imaginative lives on the continent of North America.  Actually, people had been living full and imaginative lives on the continent of North America for hundreds of years before that.  1492 was simply the year sea pirates began to rob, cheat and kill them."  Kurt Vonnegut, Breakfast of Champions
In a quote made famous by Napoleon Bonaparte, "history is a set of lies that people have agreed upon."  During my childhood, and I can remember this tune to this very day, "In fourteen hundred and ninety-two, Columbus sailed the ocean blue, he sailed and sailed and sailed and sailed to find this land for me and you."  And with that hymn, students have been taught that Christopher Columbus led a fleet of ships (the Niña, Pinta, and Santa Maria – common trading vessels) across the Atlantic Ocean and "discovered" America.  Columbus Day, as we know it in the United States, was invented by the Knights of Columbus, a Catholic fraternal service organization. Back in the 1930s, they were looking for a Catholic hero as a role-model their kids could look up to. In 1934, as a result of lobbying by the Knights of Columbus, Congress and President Franklin Roosevelt signed Columbus Day into law as a federal holiday to honor the explorer who opened the gateway to the New World.
The chief source, and on many matters the only source of information about what happened on the islands after Columbus arrived, was noted by a Catholic priest named Bartolome De Las Casas who lived during the time of Columbus.  He transcribed Columbus's journal and wrote a multi-volume "History of the Indies."  De Las Casas, quit working for Columbus and became a priest as a result of the atrocities committed against the natives of the land. De Las Casas says that Columbus returned to America (West Indies) on his second voyage with seventeen ships and with more than 1,200 heavily armed men with horses and attack dogs.  Their aim was to obtain as much gold and as many slaves as possible.  He described how the Spaniards under Columbus' command cut off the legs of children who ran from them, to test the sharpness of their blades. According to De Las Casas, the men made bets as to who, with one sweep of their sword, could cut a person in half. Bishop De Las Casas reported that the Spaniards became so lazy that they refused to walk any distance; and either rode the backs of the Arawaks or was carried on hammocks by Arawaks who ran them in relays. He continued by saying Columbus' men poured people full of boiling soap. In other cases, the Spaniards had the Arawaks carry large leaves for their shade and had others to fan them with goose wings.  Women were used as sex slaves and their children were murdered and then thrown into the sea.   In a single day, De Las Casas was an eye witness as the Spanish soldiers dismembered, beheaded, or raped 3000 native people.  According to his writings, De Las Casas spent the rest of his life trying to protect the helpless native people. Historians and experts generally agree that before 1492, the population on the island of Hispaniola was estimated to be above three (3) million. Within twenty (20) years of Spanish arrival, it was reduced to only 60,000. Within fifty (50) years, not a single original native inhabitant could be found.  In 1516, Spanish historian Peter Martyr wrote: "… a ship without compass, chart, or guide, but only following the trail of dead Indians who had been thrown from the ships could find its way from the Bahamas to Hispaniola."  Christopher Columbus derived most of his income from slavery, De Las Casas noted. Columbus is believed to be the first slave trader in the Americas; starting the Trans-Atlantic slave trade by taking 500 of the healthiest men back to Spain to sell into slavery, and the proceeds from the sale helped to pay for his third voyage. As the native slaves died off, they were replaced with black slaves. Columbus' son became the first African slave trader in 1505. On his third voyage to Haiti, Queen Isabelle's new Governor, Francisco De Bobadilla, had Christopher Columbus and his two brothers arrested and sent back to Spain in chains as prisoners for their crimes against the Arawaks.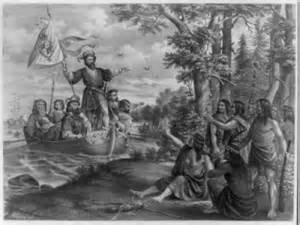 So with this new found knowledge, some cities throughout the United States have stopped celebrating Columbus Day and in turn are now calling it Indigenous People's Day.  As of late, Seattle, Washington's Mayor Ed Murray will sign Indigenous Peoples' Day into law today (October 13th), and he noted to local media that the day is only a homage that has no municipal weight. The legislation "will honor local Native-American tribes," the Seattle Times reports. Murray claims Indigenous Peoples' Day will "add new significance to the date without replacing the Columbus Day tradition," according to the paper. But when you think about it, how significant is this legislation?  How does this make up for land being stolen and ancestors being murdered?  In October 2008, President George W. Bush signed Congressman Joe Baca's (D., California) "Native American Heritage Day Act of 2008," which set a holiday for the day after Thanksgiving. Other than reading this article, or doing your own independent research, did you know this Act existed?  It appears to me that on the days Indigenous People are to be honored are the days of big gains for capitalism (Columbus Day sales/Black Friday).  So when you receive your discounts for those Beat By Dre headphones or that Michael Kors purse, pause and ponder to yourself, should Columbus be celebrated and have equal historical significance as Martin Luther King Jr. or Abraham Lincoln? The answer is evident, however people are taught to blindly reject information that challenges the norms of society.  Question everything!!!  "We Are The Change!"  I'm gone! (b)
Follow the Fan Page on Facebook : The Porch Reloaded – Rocking Chair Rebels
Follow us on Twitter: @ThePorchFellas
Follow us on Instagram: The_Porch_Reloaded
Email us: [email protected]
Listen to the show on Thursday nights at 7:00 pm: blogtalkradio.com/antirobotnetwork or www.theporchfellas.com