Each month we tear off the pages of the calendar, and as the years pass we look back and ask ourselves where has the time gone?  The gray hairs in my beard, wrinkles in my face, loss of hair and the fact that my metabolism has slowed won't allow me to say that it seems like yesterday I was wandering the halls of my high school; but much hasn't changed since that time.  With age comes maturity, wisdom.  And with those lessons comes the ability to reflect on a time of few responsibilities and innocence lost.  What seemed like a lifetime of traveling from classroom to classroom acquiring knowledge, developing reputations and forging bonds were all captured in one singular moment; the receipt of a diploma.  And on that June afternoon in 1989, the first ninth (9th) grade class of Miami Norland Senior High School graced the stage of Florida International University. Proud parents, relatives and friends scanned programs identifying their loved one(s) who were preparing to set sail on the voyage to adulthood.  Some had already begun their journey by being the caregivers to family members or holding down jobs to contribute to household expenses. For others, the lambskin meant that the sun was only breaking the surface of the horizon and new chapters were preparing to be written.  As each of us walked across that stage, shaking the hand of our principal as flashbulbs burst like 4th of July fireworks, the event seemed all too surreal.  During that time, receiving a high school diploma was one of many crowning achievements.  Some were the first to graduate in their family in a generation; for others it was a mandatory expectation.  Regardless, the accomplishment appeared all the more gratifying.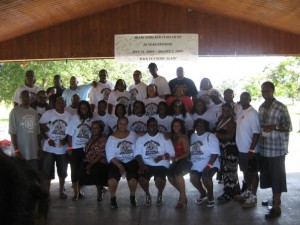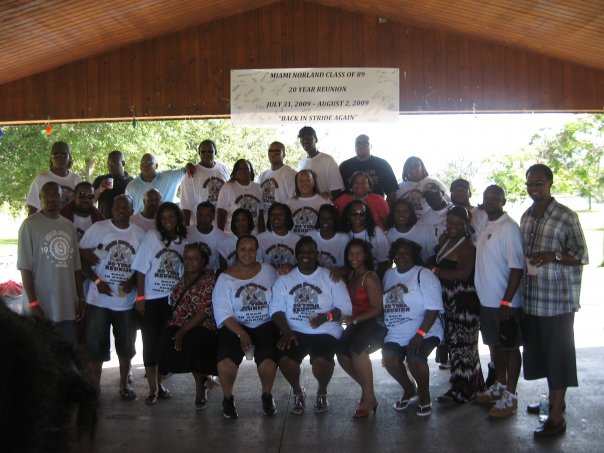 Reunions aren't intended to celebrate the cap, gown and tassel. It's a culmination of a lifetime of events until that very juncture.  Friends won and loss by arguments and fights; cheating off each other's paper on tests/essays and walking home from school; discussing trends and collecting enough monies amongst a group to bus to the mall and catch a movie; the reunion rekindles those moments.  Stories when spoken amid your peers are astonishing and embarrassing.  A look in a Memory Book and/or the high school yearbook reveals messages and photographs of a time long ago and resonates in the heart as if the events were taking place in real time.  Pointing out who were popular, who you didn't quite know; asking what are they doing now, and identifying the people who were "crazy", jocks and who you wouldn't have minded "hooking up" with.  Laughter ensues and one is left pondering the "what ifs".
But with technology today, those memories and questions can be relived and answered every day, right?  With the advent of social media, those relationships can begin anew with the click of a button.  So the K.I.T. (Keep in touch) written by that someone you were secretly fond of or shared a close relationship with is only an email or inbox away.  But after twenty-five (25) years, things have changed.  Many of us have been hurt, had families, dealt with life's trials and tribulations and have no time for empty promises.  Although avenues like Facebook, Twitter and Instagram have the ability to bring us closer, the warmth of actual human interaction is never more distant.  Many of us have been able to maintain their friendships; those bonds forged and maintained with constant communication and family gatherings.  While others distance themselves from the hysteria; perhaps loners or maybe ashamed of the lives they've lead to this point.
The twenty-fifth (25th) year is considered the silver anniversary of any event.  And as the years pass, attendance to celebrate such events appears to wane. Of course, life happens.  As the Miami Norland High School Class of 1989 prepares to commemorate our reunion this forthcoming weekend, I'm unsure I'll be in attendance.  Not because I don't want to attend; I'm unsure I need to attend.  I know there's no excuse for my failure to be a participant in the activities if I have the capacity to do so.  But as an individual, I've changed like I'm sure many others have, and in my heart I don't know if that'll be acceptable.  I've never been tolerant of the emotionless hugs, kisses on the cheek, and fake "dap".  People recognizing each other at different venues but refusing to speak; and if you do so, it's as if you're wasting their time like they were some sort of celebrity.  Sh*t!  I'm genuine with my interactions and I expect that in return.  Upon exiting the graduation ceremonies that fine summer day, I would've thought those unspoken pledges of friendship and camaraderie would last a lifetime.  Sentiments written in the pages of a text would hold true to this day.  During our youth, we hastened time to get to an age where we can be accountable for our deeds; without the watchful eye of parents and other authority figures overseeing our every move. But with each rotation of the earth around the sun, we distance ourselves further away from those ages of virtuousness.  On that day, the cap was tossed in the air the tassel shimmered in the wind and as it plunged to the earth, the gravity of both the moment and the lid came to a crashing halt.  Twenty-five (25) years later, I hope that same sense of elation can be reawakened and not regulated to "One Moment in Time".  When I say "We Are The Change", that ALWAYS includes me, as I strive to be a better person. I'm gone! (b)
Follow the Fan Page on Facebook : The Porch Reloaded – Rocking Chair Rebels
Follow us on twitter: @ThePorchFellas
Email us: theporchfellas@yahoo.com
Listen to the show on Thursday nights at 7:00 pm: blogtalkradio.com/antirobotnetwork or www.theporchfellas.com