So originally slated for today, I had planned on posting a blog called "Riddle Me This!"  I'm talking about that sh*t was gonna be deep discussing conspiracy theories and propaganda.  I had done my research; notes were spread out across my desk; and water was on deck to ensure I was properly hydrated and my brain was functioning at maximum capacity.  But as I began formulating the blog, I became engaged in a conversation with a friend concerning their goals and aspirations.  Now because I'm passionate about such things, the words began flowing; my fingers began hitting the keyboard of my iPhone at break neck speed.  By the time I finished, I had sent out about six (6) paragraphs; all lengthy in content and detailed with the precision of a craftsman.  I'll keep this one short (I'll try), but it's gonna be an honest assessment of what "I" perceive life to be.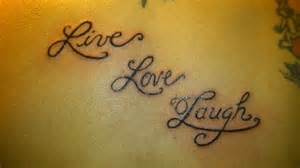 From time to time, be on social media, etched in ink on someone's skin or an individual wearing the moniker on a t-shirt, you will see the axiom, "Live, Love Laugh."  The phrase is powerful in its content because if you simply live by those three (3) words, you should have no worries in the world.  Unfortunately, life isn't always as simple as following a slogan.  As human beings we're often times overcome with emotion; we experience elation, happiness, grief and disappointment.  With each life changing event our emotions ebb and flow like the rising and falling tide on the banks of the coastline.  It appears that most of us only experience the later of the three (3) words in that statement; not enjoying the pleasures of the first two (2).  The question must be asked, are you truly living or merely surviving.  The caged hamster is aware of its existence when it's a captive as a pet.  There are only a few options: sleep, eat/drink and run on the wheel.  It's as simple as that; nothing more.  Many of us are merely existing; unhappy with our current situations but too defeated to offer to make a change.  All the childhood dreams appear shattered like glass because of a wrong decision or life choice.  So to that end we settle; become content and complaisant; unwilling to pursue our life's passions for fear of what people may think or the association of being deemed a failure.  So worried about being judged in the court of public opinion; so enamored with our "haters" that we spend beyond our means to satisfy those that can careless; lying awake well into the early morning hours contemplating our current situations and looking for a means of escape. So on bended knee we pray for salvation with the hopes of being granted favor.  And once given a sliver of hope, we broadcast for the entire world to see and hear how we're so blessed; like a gambler; always highlighting the wins but never elaborating about the losses.  That's not living, that existing.  In the phantom Bible verse, Hezekiah 6:1, "God helps those who help themselves!"  You can't expect others to help you or relieve your burden without first trying to do so yourself.  So live!!!!! Drop that baggage and go…
They say time heals all wounds, broken hearts mend.  For many of us, the pain and anguish of love loss never subsides.  So we become scared to love again for fear of repeating the cycle.  Missing out on opportunities, because dipping a toe into the shallow end of the pool equates in the heart to being fed to a pool of sharks.  We want love to be unconditional only when it pertains to us receiving it.  Yet we remain reluctant to share those feelings on a consistent basis.  Here's an example of what love is, and it's not like Romeo and Juliet, as the lyrics of the old song will belt when heard.  Imagine giving someone money; any denomination.  If you're looking to be repaid, it causes you some type of hardship by not having it or you're constantly hounding someone to have it back, then you shouldn't have given it.  Anything you give, whether money, love or time, you should do so freely and willingly without any strings attached.  Don't get me wrong, everyone wants their feelings reciprocated, however there's never a guarantee that the feelings will mutual; reaching the same level.  Love is never the same; it's either ascending or descending.  But you can't be afraid to give of yourself.  Essentially, that's what every religion teaches in a roundabout fashion.  Love is the key.
But one thing as a society we do very well is laugh.  We laugh at the plight of others; we laugh when people are exploited and used.  But boyee…..  let that pistol get put on us, exposing our faults and weaknesses and we're ready to fight something.  Laughter is good for the soul and a smile radiates a room when it's genuine.  It's ok to laugh at ourselves; it places life in perspective and means we don't take everything so seriously.  So there it is! "Live, Love, Laugh."  When properly understood, they're the gateway to a happier existence.  Believe me, I'm not sitting here ideally giving advice; I too have experienced those same pitfalls, so it's spoken from experience.  And when your Saturday approaches, and you're lying on your death bed as the Grim Reaper begins to rap on your door, you don't want to look back on your life saying, "What if" or "I wish I would've said or done…"  "Live, Love, Laugh."  "We Are The Change!"  I'm gone! (b)
Follow the Fan Page on Facebook : The Porch Reloaded – Rocking Chair Rebels
Follow us on twitter: @ThePorchFellas
Email us: theporchfellas@yahoo.com
Listen to the show on Thursday nights at 7:00 pm: blogtalkradio.com/antirobotnetwork or www.theporchfellas.com